The Time Saving, Spill Free System for Communion Preparation!
Fill 40 Communion Cups Per Minute, With Quick and Easy Cleanup
Revolutionary
Communion Prep
System
Fill Cups Directly from the Bottle
No Drips or Spillovers
Fits All Standard Juice Bottles
Set Up in 5 Minutes or Less
No Extra Bottles to Refill or Clean
Prepares 40 Cups Per Minute
Quick and Easy Cleanup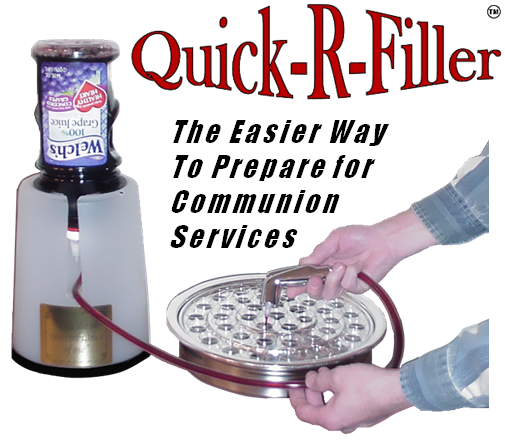 Easy to Use, Easy to Clean Up!
Churches all over the Midwest have found the Quick-R-Filler™ is the fastest and easiest way to fill communion cups for their congregations. We constantly hear about how much time and energy they save and how easy it is to get ready for and cleanup after communion preparation. From start to finish the Quick-R-Filler™ system can prepare 200 communion cups in less than 10 minutes and clean up takes less than 2 minutes.